Warmup Underfloor Heating Systems offer a cleaner, quicker and more energy and cost-efficient way to heat your home. Whether installing an Electric or Water system, learn more about all the related costs to floor heating.
How much does Underfloor Heating Cost?
Warmup underfloor heating systems, installation and running costs vary depending on the size and scope of the project, the desired heat out-put and the daily / seasonal usage of the system. Use our Running Costs Calculator to get a breakdown of how much you could save on your energy bills by installing one of our electric systems and request a quote for a more detailed assessment of your heating requirements.
Learn below more about the costs involved in underfloor heating consisting of the cost of a Warmup system, the estimated installation cost, and the running costs.
System Cost
We offer a range of water or electric floor heating systems at different price points. Learn more what to take into consideration when choosing your system below.
Installation Costs
Any underfloor heating project also involves the cost of getting the system installed. Find out more here.
Running Costs
Underfloor Heating can offer substantially lower running costs compared to traditional central heating. Learn more about the running costs here.
Cost of Underfloor Heating Systems
We offer a range of water or electric floor heating systems suitable for a wide array of projects and positioned at different price points.
Warmup's 24 years of research and development into underfloor heating has led to us creating the right system for your specific requirements, whether you are renovating a bathroom or building a house. Learn below more about the systems below.
Your project's sub-floor type and final floor covering also ultimately inform which system is right for you. To work out which system is best for your project read our Floor Coverings guide.
Whether you are installing the StickyMat System under a tiled kitchen floor or using the DCM-PRO Decoupling System in your lounge, all our electric systems are competitively priced and perfect for use in any home refurbishment.
An example costing of our Loose Wire System in a 4m² bathroom installation with accompanying insulation and a Warmup Thermostat for greater heating efficiency is around £470 + VAT RRP, about the same is a new freestanding bathtub.
For a larger space requiring 10m2 of the StickyMat Underfloor Heater, a rough pricing would work out at £511.66 + VAT for the system, £268.24 + VAT for the accompanying Insulation Boards and £189.16+ VAT for a 4iE Smart WiFi Thermostat to control the system.
You can use our online quotation tool to quickly receive a clear quote for your project, broken down into three different pricing options, from the least costly to the most comprehensive system. This quote will take into consideration your inputted details of floor size, floor finish, usage and heating source.
Our Hydronic systems are more expensive to install but cheaper to run in the long-term, saving you money on your heating bills compared to a traditional centrally-heated home.
As we recommend water systems for new-build projects, we invite you to enquire with our Projects Team who are happy to give you accurate pricing for a Warmup system in your construction and will provide help and guidance from the design stage right through to installation.
Installation Costs
Outside of our Projects department, Warmup does not offer installation of our underfloor heating systems. The price of installing a system depends on which installer, builder, tiler, plumber or electrician you choose to hire for your project and these prices can vary region-to-region and tradesman-to-tradesman. However, if you are in the process of renovating your bathroom for instance, the fee for your tiler installing an underfloor system as they replace your floor tiles is often negligible.
A pricing suggestion of about about £200-300 per day for your tradespersons work would be fair and most of our systems can be installed within a room, start to finish, in about 1 – 1.5 days. This gives us a general estimate of about £400 for installing an underfloor heating system.
Always confirm your installer is a skilled, qualified expert with experience in installing floor heaters.
Running Costs
Underfloor Heating can offer substantially lower running costs compared to traditional central heating. This is because floor heating systems offer much quicker heat-up times than central-heating based systems whilst also running at lower temperatures yet still producing the same level of warmth in the room.
Running costs can vary depending on your home's design, how well insulated it is, what energy tariff you are on and how you control and monitor your homes heating.
See our Running Costs Information Table below for examples of these running costs and use our Running Costs Calculator to get an idea of how much money you could save by installing Warmup heating in your home.
Running Costs Information Table
For these figures, we used an estimated energy price of 11.61p/kWh, using the heating system for 6 months (182 days) over the cooler months of the year on a 10mm Warmup Insulation Board.

The average running cost after an initial heat-up period is 0.7836 p/m²/h.
| | | | | |
| --- | --- | --- | --- | --- |
| ROOM TYPE | HEATED AREA | RUNNING TIME AM | RUNNING TIME PM | WINTER COST* |
| BATHROOM | 4m² | 2hrs | 1hrs | £22.75 |
| KITCHEN | 5m² | 1hrs | 2hrs | £27.81 |
| LOUNGE | 15m² | 0hrs | 3hrs | £78.19 |
Cut down on energy with a Smart Thermostat
A Warmup Smart Thermostat plays a crucial role in lowering the running costs of a heating system. Our technologically-advanced 4iE Smart Thermostat prevents energy wastage, making sure your heating is only running when you need it. It also offers remote access and energy-monitoring functionality; using a 4iE with its connected Smartphone apps can save you up to £378 on your annual energy bills.
Increase heat up time and decrease heat loss with Insulation
Warmup's range of Insulation Boards are of paramount importance when lowering running costs of underfloor heating. Properly insulating your floor with Insulation Boards can increase the heat-up period of the system significantly, reducing the overall underfloor heating running cost by as much as 50%.
Our Research and Development Centre
Warmup's focus on Research and Development guarantee you continually advanced underfloor heating systems that provide maximum energy and cost-efficiency.
With over 20 years of expertise and innovation in heating homes across the World, Warmup's Research Centre tests and hones our existing products and develops new ideas to make heating your home cheaper and cleaner for the environment. The Post-Occupancy Monitored Housing Programme predicts future energy usage and its accompanying costs, working towards ensuring you a better deal on your underfloor heating costs.
Find out about Warmup Underfloor Heating Systems
Bathroom Underfloor Heating Cost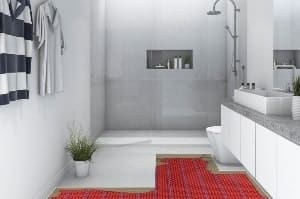 In this article we'll give you a good understanding of the initial installation costs, running costs and the long-term savings of heating your bathroom with an underfloor heating system.
Best Flooring for Floor Heating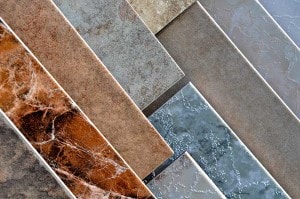 Whether you're renovating or choosing flooring for a new build, we outline in this article what you need to know about different flooring for underfloor heating.
Pros and Cons of Floor Heating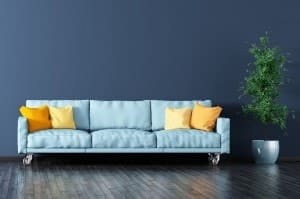 This blog post discusses the advantages and disadvantages of underfloor heating. Is it worth the extra cost and hassle?